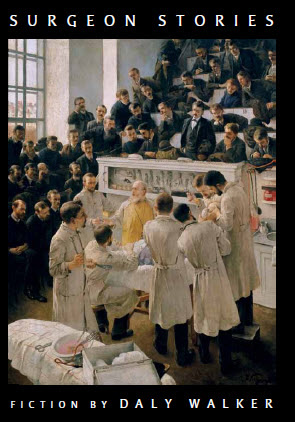 New Edition Available in Kindle, Paperback and Hardcover
Read Reviews of Surgeon Stories
Purchasing Information for Surgeon Stories
An overview by Sena Jeter Naslund
Daly Walker's Surgeon Stories is a book of the body, and the physician, particularly the surgeon, is the shaman of the body. For many of us, the physician-surgeon has been the body's personal champion and sometimes savior in the face of disease, accident, aging, human violence, and war. While most of these categories are inevitably faced by all of us, war is the ultimate ogre, and the ravages dwarf and challenge even the most skilled physician. Himself both a surgeon and a Vietnam veteran, Daly Walker has written a powerful and artful collection that compels us to consider the power of war as it slices through both the body and the sense of self. His two bookend stories spotlight the failure of generation after human generation to end wars, but they also illumine the ability of the shaman, while flawed like every other human, to open wide the doors of compassion.
Sena Jeter Naslund edited the first edition of Surgeons Stories. She is the founding editor of Fleur-de-Lis Press and author of The Fountain of St. James Court, Ahab's Wife, Abundance, and Adam and Eve.
Riveting and beautiful! With this collection of linked stories about the lives of surgeons, Daly Walker joins the ranks of other great doctor-writers—Anton Chekhov, William Carlos Williams, Walker Percy, Ethan Canin—who understand the frailties of the human heart as well as they do the human body. His prose is as artful and precise as a surgeon's scalpel, and his skill is, more importantly, always in service of narratives that reveal not only his characters' fierce, frequently ambivalent devotion to their medical vocations but also their rich, unsentimental, and deeply conflicted inner lives.
— K. L. Cook, author of
Last Call and Love Songs for the Quarantined
With an insider's view of the medical profession, Daly Walker writes engaging stories, which often reveal their doctor protagonists to be just as flawed and human as their patients. The result is an eye-opening collection of stories.
— Billy Collins
Crafted in language crisp and precise, Surgeon Stories delivers the kind of quiet tragedies that reaffirm the redemptive power of storytelling. Walker's unforgettable characters wrestle with hope and loss, love and regret, the exactness of science and the ambiguity of human emotion, and their struggles continue to haunt the reader long after their stories have ended.
— John Pipkin, author of Woodsburner
Daly Walker has written a heartfelt book from deep experience. I admired its precision and quiet elegance.
— Thomas McGuane, author of Driving on the Rim
This is among the best collections of stories I've encountered over the last decade or so—fiercely dramatic, immaculately composed, and so moving that even the most hardened heart must tremble. Treat yourself to the great beauty of Surgeon Stories.
— Tim O'Brien, author of
The Things They Carried and July, July